We are happy to announce the winners of the Jana Festive Rewards Campaign. Click here to view the winners
About the Campaign
This festive season, experience great services, earn attractive interest rates and also win a Myntra e-voucher worth ₹250.

Deposit ₹25000 or more in your Jana Account from 18 to 31, October 2019 and maintain this additional balance till 31, October 2019 to be eligible to win the voucher. Hurry, fund your account today to avail the offer.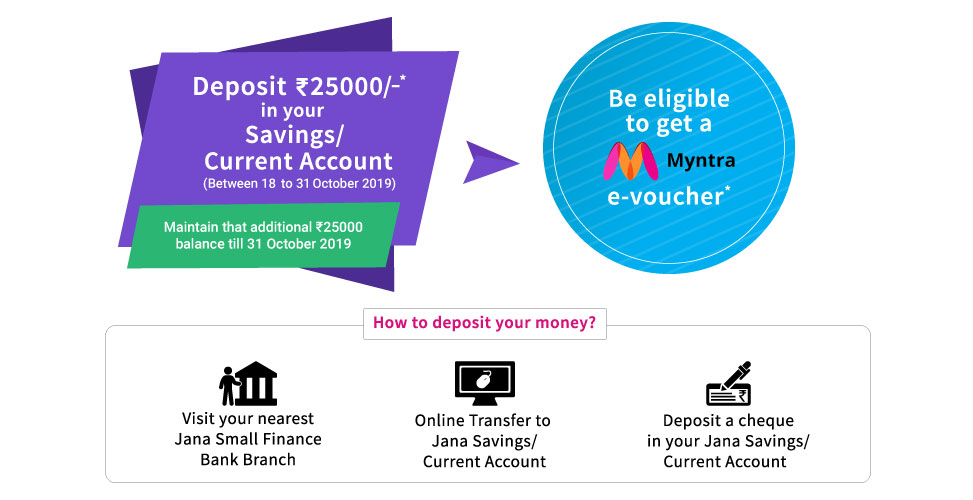 Earlier you deposit, better the chance to get the vouchers!
*Terms and Conditions:
JANA SMALL FINANCE BANK is launching a campaign for select JANA BANK customers whose accounts have been opened and activated before 1st October, 2019.
Campaign starts on 18th October, 2019 and ends on 31st October, 2019 with both days inclusive.
Customers will become eligible to win the voucher after adding at least ₹25,000 (Cumulatively) to his/her account and then maintain that additional ₹25,000 in his/her respective account during the campaign period. The additional amount deposited has to stay in the account till 31st October,2019. As a reward for this additional funding, the customer would be eligible to win the voucher worth ₹250 from Myntra.
The vouchers will be allocated in the order of additional funds [i.e. ₹25,000/-] deposited in customers account
Earlier the additional funds are deposited in the account, the higher the chances of the customer to win the voucher
In case the customer deposits the additional funds, takes it out and again deposits the additional fund, then the last day of deposit will be considered for the campaign
Select and limited number of vouchers are available for the campaign
One customer will be eligible to win one voucher only
Customers will be communicated about the campaign through SMS, E-Mail and/or Call
Winners will be announced within 15 days after the end of campaign
The e-vouchers will be e-mailed to the winners on their registered E-mail ID within 45 Days of result announcement. It is the responsibility of the customer to ensure that the correct email id is updated with the bank
JANA SMALL FINANCE BANK reserves the right to modify, cancel, extend or discontinue the campaign and/or these terms and conditions or any part thereof at any time without prior notification and JANA SMALL FINANCE BANK is not responsible for any third party products, goods, services and offers.
This Campaign is voluntary and by participating in the campaign, you are deemed to have read, understood and accepted these Terms and Conditions.
Staff and/or relatives of employees of JANA SMALL FINANCE BANK will not be eligible to be part of any contest or promotional campaigns run by JANA SMALL FINANCE BANK.
All issues pertaining to this Campaign to be raised within 60 days from the announcement of the Campaign. If any dispute or complaint or query raised after 60 days then the same will not be entertained.
Intra bank transfer will not be eligible for offer (JANA SMALL FINANCE BANK to JANA SMALL FINANCE BANK).
Terms and Conditions for MYNTRA VOUCHERS:

Get ₹250 off on the Myntra application or website on spends of ₹999 or more valid till 31st December 2019 only on a selected catalogue for Jana Bank customers - https://www.myntra.com/myntra-special
Maximum discounts, i.e., product discount and coupon discount, are subject to product level cap enforced by seller.
The code can be used once per Customer.
This offer is not valid at any of the alliance partner retail outlets/stores.
Multiple coupons cannot be clubbed in a single order.
The balance amount, after the discount is availed, will have to be paid by the customer at the time of purchase.
In no case, whatsoever, can the discount amount be refunded, en-cashed or partly en-cashed
Myntra's Return and Exchange Policy offers you the option to return or exchange items purchased on Myntra's application within 30 days of the receipt. In case of return of the purchased item, please refer to the "Return Policy" on the website/ application or call Myntra Customer care.
All orders would be subject to availability at the time of purchase and will be governed by the standard terms and conditions listed on the Application.
All disputes arising out of or in connection to this scheme are subject to exclusive jurisdiction of the courts in Bangalore only
Disclaimer: Myntra is not responsible for any typographical error leading to an invalid coupon