Jana is associated with BCCI as the official sponsor of Indian cricket, and is pleased to be the sponsor of Jana Bankable Player award.
What is Jana Bankable Player?
Cricket is the ultimate team sport. But in every team, there is always that player who is dependable, performs consistently and rises to the occasion when the team needs him the most. No matter how the opponent performs, he is always on the pulse of the game, and delivers consistently throughout the match. It's this commitment of his that helps his team win. He is our Jana Bankable Player.
One player from the 'playing 22' in every match is awarded for his consistency and named the Jana Bankable Player. Audience votes and commentator's analysis, together decide the Jana Bankable Player for every match.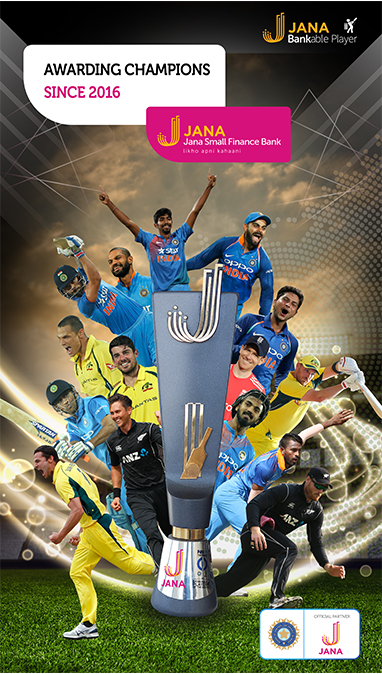 How is Jana Bankable Player different from Man of the Match?
A 'Man of the Match' or 'Man of the Series', mostly carries the fate of the game on his shoulders, thus creating an impact on the proceedings of the game. The Jana Bankable Player celebrates that dependable player on whom the team can bank upon anytime. He is a consistent performer, and delivers when the team needs him the most - time and again!
What is Jana Bankable Trophy?
The Jana Bankable Trophy has been introduced in alignment with our philosophy to be consistent and dedicated, and is awarded to the player of the series. It expresses exclusivity and excellence, through its sculpture and blends with the values of the organisation and the award itself. Its spirit comes from symbolically projecting - 'enduring values of excellence' in a cricketer.
Features of the trophy
Trophy layout is inspired by the Jana 'J'

Symbolises a player's dependable performance on all 3 fronts

Bat, Ball, and the Wickets represent cricketing elements

Defines winning spirit in all positions of play - batsman, bowler, and fielder

Crafted in aircraft grade aluminium

Refined black anodised surface finish
The Jana Bankable Trophy has especially been conceptualized and designed by Foley Designs. They are the creators of the Commonwealth Games 'Queen's Baton' and the Indian Formula One Grand Prix trophy.
Rewards
Aligned to our key philosophy of being dependable for our customers, the Jana Bankable Player is the recognition of a player's commitment towards his team. The player who is awarded the Jana Bankable Player of the match and Jana Bankable Player of the series receives a prize money of INR 1 Lakh and INR 2.5 Lakhs respectively.

Find out more about the contest on http://www.janabankableplayer.com/